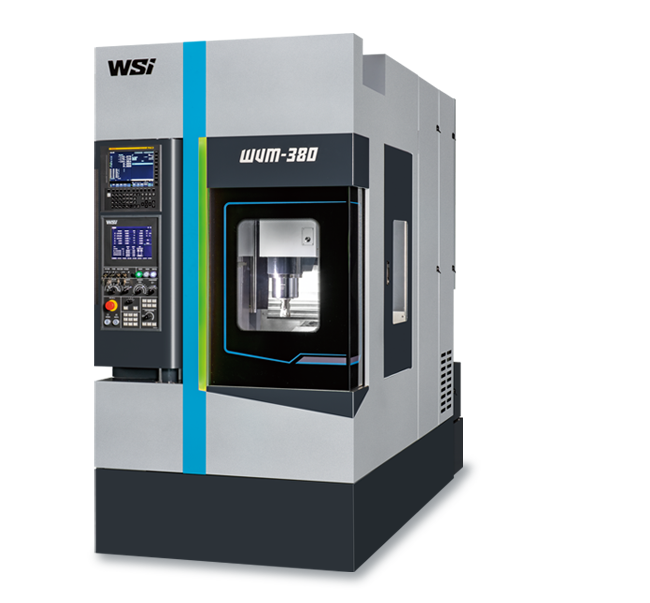 5 AXIS VERTICAL MACHINING CENTER
ADVANCED DESIGN CONCEPT
A New Standard in 5 Axis Machine Performance
A Combination of Intelligence and Practicality
Compact Structure Design
Although the machine width is only 1200mm, its internal working space can reach a diameter of 400mm. This feature not only allows for greater utilization of factory space, but also lowers management costs.
L Type Operation Door
Whether in manual or automatic workpiece loading/unloading, the operation door provides convenient and spacious working space.
Elegant Appearance Design
The high quality LED status lights, operation box, and operation door are located at the same level. The modern simplicity and modularity design, in combination with industrial aesthetics and human engineering provide the operator with the optimal machine operating experience.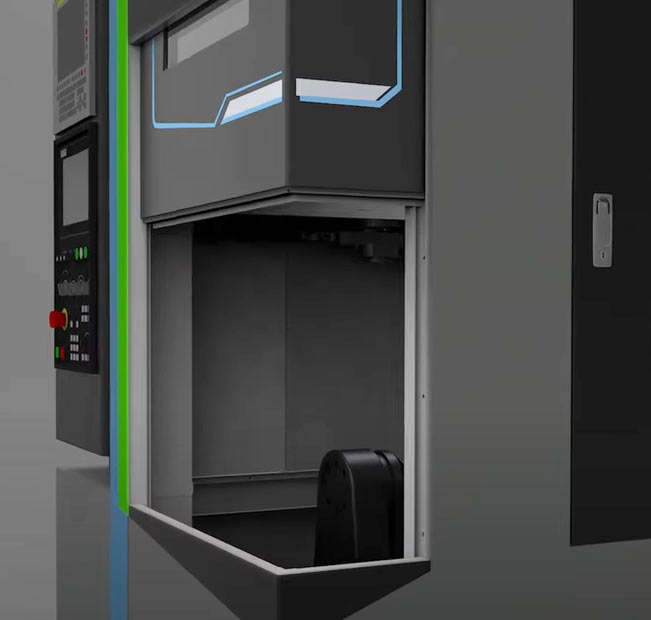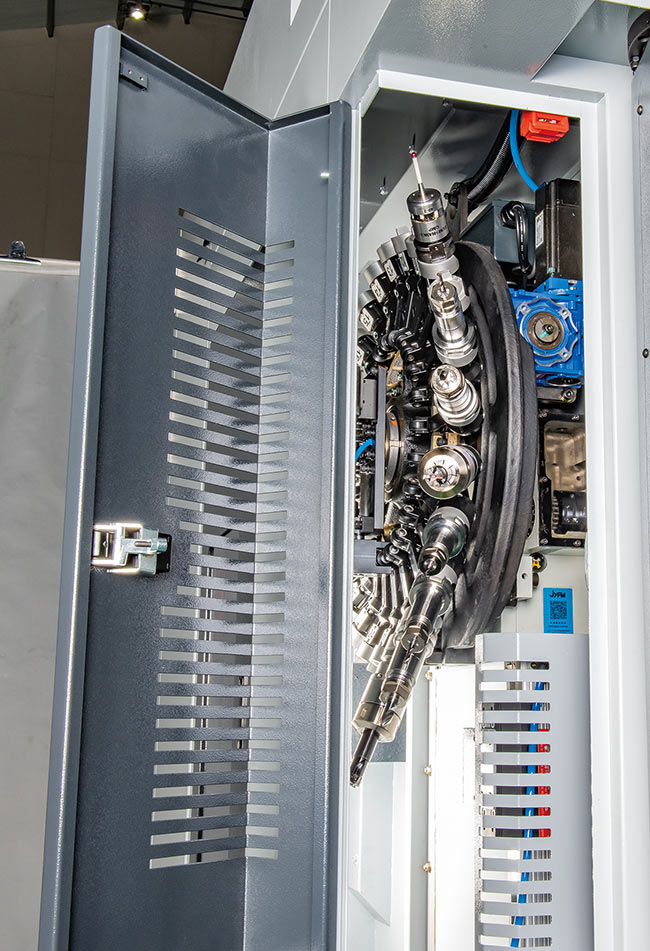 Front-Mount Outside Machine Tool Change
The tool changer is user-friendly in operation with the use of the magazine operation panel. It does not take up machining time while changing tool, which upgrades the machine utilization rate.
Radial Type Twin-Servo Magazine
This type of tool magazine can shorten tool change time. It also avoids inertial vibration during tool change, leading to high machining accuracy.
High Accuracy and High Efficiency
The highly rigid swing type B, C- axes ensure high machining accuracy at any angular position, thus fully meeting the requirements of complicated machining.
The B and C axes are designed with full circumference hydraulic brake for maximum dependability.
The worm shaft is a two-section design, allowing backlash to be adjusted by simply turning a simple side of the worm shaft.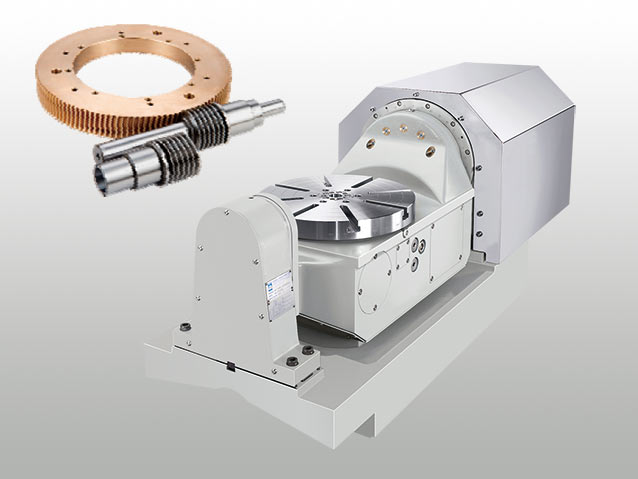 Multi-axis Modular Design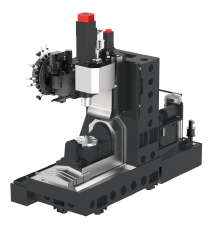 B+C axis layout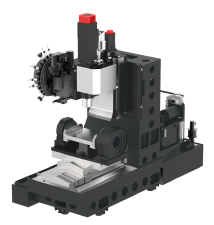 A-axis layout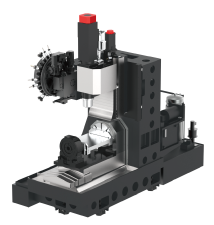 B-axis layout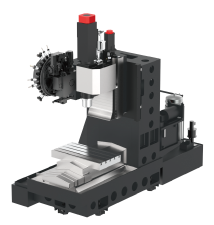 Cross type table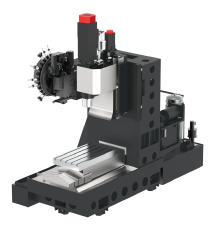 Longitudinal table type
Configuration Application Example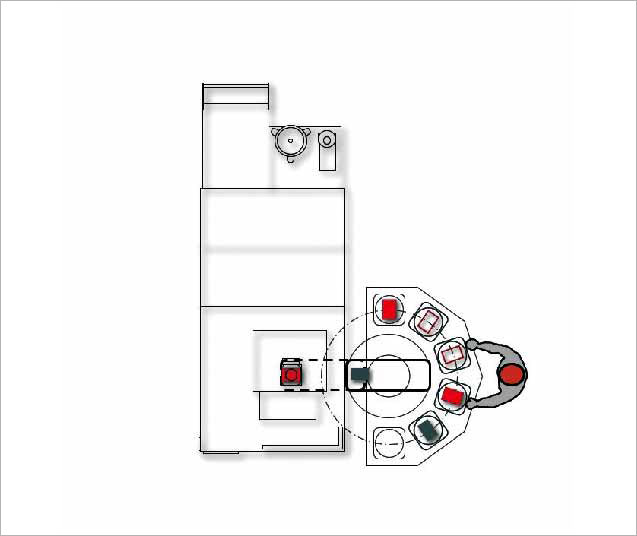 Parts supply by automated part storage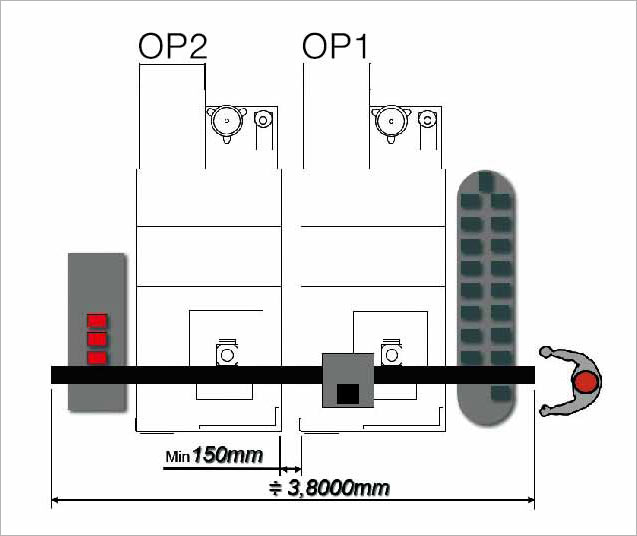 Gantry type parts loader for automated production line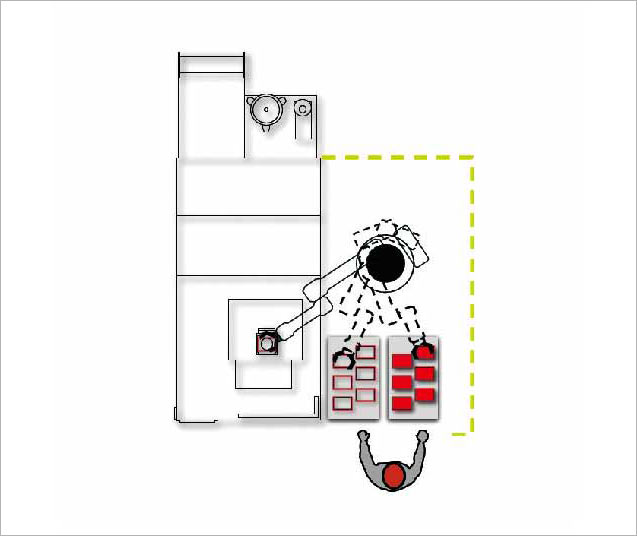 Robot and parts tray for single machine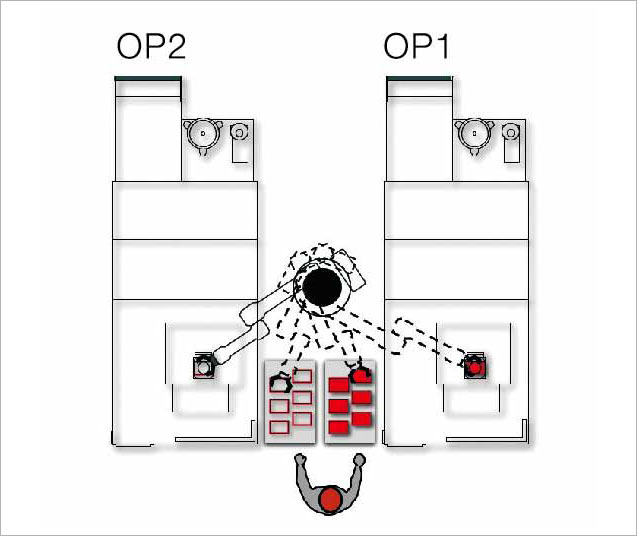 Robot and parts tray for production line
Machine Specifications:
MODEL
WVM-380U
WVM-380UK
SPINDLE

Spindle nose type
BBT 30
BBT 40 / HSK 63

Spindle drive
Direct drive

Direct drive
Max. spindle speed
12000 (15000) rpm
12000 (15000) rpm
MOTOR
MOTOR
5.5 / 7.5 / 11 / 15 kw
5.5 / 7.5 / 11 / 15 kw
TRAVEL
X/Y/Z
380 / 400 / 360 mm
380 / 400 / 460 mm
B/C
±120° / 360°
±120° / 360°
TABLE
Table size
Ø320 mm
Ø320 mm
Max. swing
Ø400 mm
Ø400 mm
Max. load
Horiz. (kg)
150 kg
150 kg
Tilt (kg)
85 kg
85 kg
TOOL CHANGER
Number of tools
24 (30)T
Max. tool dia. (w/o adjacent tool)
Ø60 / Ø80 mm
Ø60 / Ø100 mm
Max. tool length
200 mm
270 mm
Max. tool weight
3 kg
5 kg
OUTLINE DIMENTION
W x H x D
1200 x 2500 x 2880 mm
1400 x 2600 x 2880 mm

Weight
4300 kg
4600 kg
● We reserve the rights to change the product specifications, appearance, accessories or advise no longer in use.
Standard Accessories
Fanuc OiMF plus controller
Chip conveyor
Intelligent HMI
Heat exchanger
Fully enclosed splashguard
Automatic lubrication pump
Work lamp
Oil fluid separator
Optional Accessories
High pressure CTS (50/70/105 bar)
Linear scale
Oil mist collector
Workpiece measuring system
Tool measuring system
Tool life management system
Air conditioner for electric cabinet
Air tight detection for workpiece